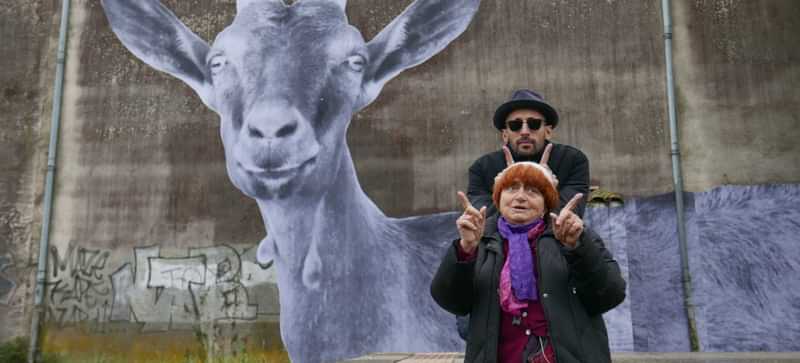 Agnès Varda is one of the most influential directors of all time. As the only female director of the iconic French New Wave, and the director of the very first film to be categorized as such (the 1956 film LA POINTE COURTE), it is difficult to overstate how much Varda has shaped our notion of French cinema, and has defined the aesthetic of feminist filmmaking. In her newest film, a collaboration with artist JR, Varda is still pushing boundaries, centering often overlooked voices and making the everyday beautiful.
Varda recently spoke to Vulture about FACES PLACES, and why she claims it is her last theatrical film, "It's certainly my last film for movie theaters. The work I've done in last ten years — video installation, exhibition in museum, in art gallery — that's more on my abilities now. When you do something for television, you advertise it ten minutes and then it goes on TV and gone. So the thing about a film for theaters is that, at least in France, there are 20 new films every Wednesday. We have to do so much promotion. It's not boring. It's just that takes half a year of our life.
It just takes our [filmmakers'] brain. We do it. I mean, we enjoy, because we're able to enjoy ourselves all the time. At least, that's a good thing. We never get bored from each other. So far, so good. What I'm saying is that the work of doing what is, in a way, necessary to get audiences, we do it. But again, it took us six month. And that I don't want to do any longer.
If I make a film, it will be experimental or show it on TV. I don't want to reach the box office. The damn box office, because they can't. When the film opens in Paris Wednesday there is already one screening at ten in the morning in one of the theaters and everybody's counting how many people came at ten a.m. Then how many people came the first day, and over the first weekend. Distributors. Everybody. They are with numbers. We don't disagree. It's okay. We did fine. My life cannot be directed by numbers. We want love from the audience. We don't want the box office."