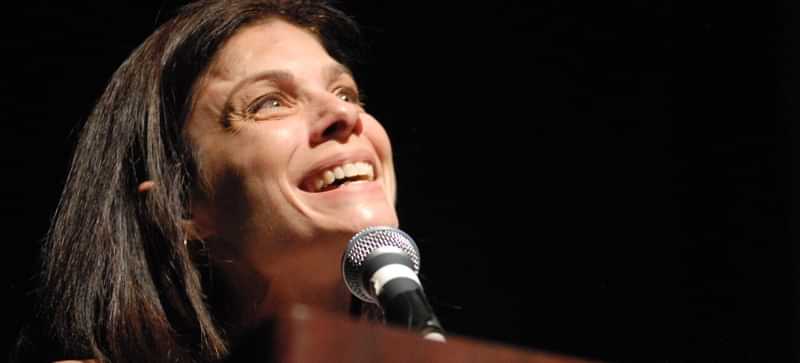 Announcing Film Streams' new Executive Director
We are pleased to announce that Deirdre Haj has been named Film Streams' new Executive Director.

Haj joins Film Streams after more than a decade leading the esteemed Full Frame Documentary Film Festival based in Durham, North Carolina. She succeeds Film Streams' founder Rachel Jacobson, who took on a new role as President of Heritage Services in Omaha last July and remains on the Film Streams Board of Directors. Since then Film Streams has been under the leadership of Casey Logan as Interim Executive Director. Haj officially starts May 17.

"We are thrilled to welcome Deirdre as the next executive director of Film Streams," says Mike Lebens, Film Streams' Board Chair. "Deirdre's remarkable experience, her genuine passion for the art of film, and her belief and commitment in cinemas as community builders make her the ideal person to advance Film Streams' mission. She is joining a great organization with tremendous staff and amazing supporters, and we are delighted to welcome her to Omaha."
"I am excited and humbled to follow founder Rachel Jacobson, and work with the talented team she has established," says Haj. "The Film Streams family's devotion to its community through its celebration of cinema can be felt in the very halls of the Ruth Sokolof and Dundee Theaters."
Haj comes to Film Streams following an outstanding run at the Full Frame Documentary Film Festival, which she had led since January 2010. Under her leadership, Full Frame developed into a prized, Oscar-qualifying festival, established year-round programming and community engagement, and prioritized equity, diversity, and inclusion across the organization and its programming. Achievements during her tenure include the creation of the nationally acclaimed School of Doc filmmaking course for teens, the Teach the Teachers documentary literacy program for educators, and the festival's celebrated Speakeasy Conversations series, including an annual #DocSoWhite panel addressing the lack of diversity in the documentary filmmaking field. Haj also developed resources to build new Full Frame offices, as well the Full Frame Theater in downtown Durham, and oversaw a consistent annual growth in membership.

In addition to her executive leadership of Full Frame, Haj also served as Senior Advisor for Television and Film at Duke University since 2016. Prior to her roles at Full Frame and Duke, she worked between Hollywood studios and government agencies, drawing together film and television actors, producers and directors and federal agencies to examine onscreen depictions of various public health issues.

Haj was selected to lead Film Streams following a national search led by a committee of Film Streams board members and facilitated by Arts Consulting Group.

Haj will establish residence in Omaha, and joins Film Streams at a significant moment for the organization, as it prepares to reopen its two arthouse cinemas following an extended closure due to the COVID-19 pandemic. The organization plans to announce a reopening date in the weeks ahead.