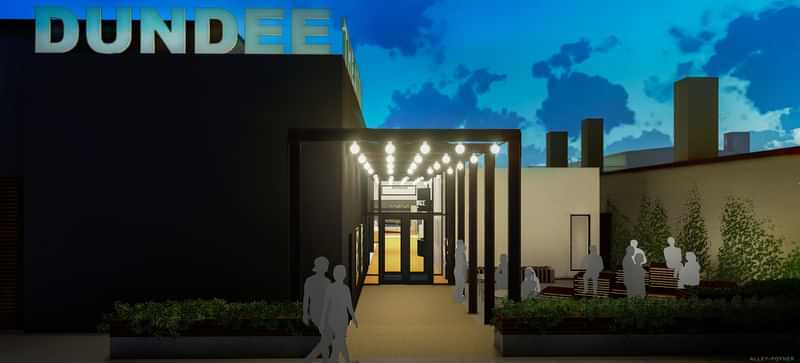 More exciting Dundee Theater news!
Last month, we revealed details about our plans for the Dundee Theater, including our vision for a vibrant lobby/community space that Film Streams will share with a restaurant partner to-be-named.
At last, we can share who that is.
Today, we're so excited to announce that Film Streams' Dundee Theater will be home to the second location of Kitchen Table, the wonderful, locally sourced restaurant that opened its first spot downtown (1415 Farnam St.) close to four years ago. Owners Colin and Jessica Duggan and their staff not only serve amazing food, they create a first-rate, welcoming atmosphere that will be such a great addition to Dundee and the perfect match for the gathering space we have in mind at the theater.
Colin and Jessica describe their idea for the forthcoming Kitchen Table Central as a streamlined version of the delicious, slow-food-fast menu they've cultivated downtown — real food made from scratch using the best local ingredients possible.
All food selections will be packaged so as to be easily portable — giving diners the option to seat themselves in the lobby, enjoy their meal outside in the Dundee's new patio space, or carry out.
Additional plans for the menu include coffee and dessert programs, as well as beer, wine, spirits and seasonal, house-made sodas.
Kitchen Table Central will open with happy hour specials each day. The restaurant will typically open one to two hours before Film Streams begins showtimes at the Dundee Theater. On weekdays, that will mean the restaurant will keep afternoon and evening hours. On weekends, the restaurant will open mid-to-late morning.
An added bonus for Film Streams Members: Kitchen Table Central will offer a discount on all in-person orders when you show your Film Streams Member Card.
As with all things Dundee Theater, we'll have more details to share as the year progresses and we draw closer to reopening the cinema. In the meantime, let us know if you ever have any questions, thoughts, suggestions, or Dundee Theater memories to share.
And please say hello — and enjoy a great meal soon — at the downtown Kitchen Table!