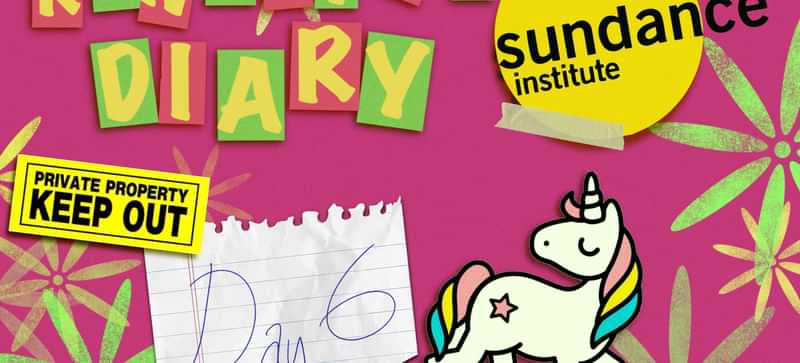 Sundance 2021 Film Festival Diary: Day 6
Dear Diary,
Another day of cinema! Kind of slowing down for me as the two premieres of the day were full so I caught up on only two films.
The first was PRISONERS OF GHOSTLAND by Sion Sono and is known to myself and many as "That new weird Nicolas Cage movie." And boy oh boy is it strange. The main drive of the film is Nicolas Cage's character being a criminal tasked by The Governor to rescue his granddaughter from the Ghostland. Which sounds simple enough but truly this movie is a fever dream throughout. The director mentioned a few times in the preamble and in the film text that this would be a blend of East meets West and I don't think that prepared me for literally geishas standing next to cowboys. Other bizarre things: a character named The Rat Man, Nic Cage calls himself radioactive, and most importantly one of his testicles explodes before we're even out of the first act. I don't know if I can label this movie with such small concepts as "good" or "bad" but it was an experience and Sofia Boutella had some really solid action scenes so...this is all I can tell you.
The next movie for me was MARVELOUS AND THE BLACK HOLE by Kate Tsang, which is just so aggressively a different movie. It follows a 13 year old girl who is really going through it after her mom passes but befriends a magician and sort of gets a new perspective. It's a really quirky coming of age film that's also super vulnerable and real. There's also a huge amount of style in this in terms of dream sequences, use of archival footage, and a lot of "movie magic" to support the magic-magic on screen. I feel like I could easily call this movie corny, and on some levels it definitely is, but it's earnestness against the main characters pre-teen cynicism really sticks the landing at the end of the day.
The other big event yesterday was the Sundance Film Festival Awards and long story short...I really missed out on CODA. It wasn't for a lack of trying, but my reservation disappeared on the platform and the second screening sold out faster than I could react. Hopefully I will be able to catch it on the last day, but lets not dwell on what I missed...but what my Big Brain knew was going to be #HotCinema.
ON THE COUNT OF THREE won the Waldo Salt Screenwriting Award, which I think is pretty well deserved. They stuck the landing with a pretty rocky subject. SUMMER OF SOUL won the Grand Jury Prize and Audience Award in the documentary category which feels like a gimme because that movie was excellent. World Cinema Dramatic Special Jury Award for Creative Vision went to ONE FOR THE ROAD which I support because that film definitely had an extremely unique vision. World Cinema Grand Jury Prize: Documentary went to FLEE, which again is very well deserved because as we will recall, I bawled at that documentary. The NEXT Innovator Award went to CRYTPOZOO and if NEXT is about pushing new boundaries, then CRYPTOZOO undeniably did that, for better or worse.
And those (excluding MA BELLE, MY BEAUTY which I started but didn't finish) are the films that my third eye saw and whispered to me, "Watch these that are destined for greatness and feel vindicated in having the ever illusive gift of taste." So I did.
While Sundance may have issued their awards, the festival isn't over and I haven't given MY awards, so tune in tomorrow for the Finale of Kenneth's Sundance 2021 Film Festival Diary only on Film Streams.
Xoxo,
Ken