Dundee Theater
Omaha's longest-running cinema, now featuring two screens: the historic 300-seat Peggy Payne Theater and new 25-seat Linder Microcinema. Choose from a selection of film books, Blurays, and other merchandise in the new "Katie's Video" bookstore.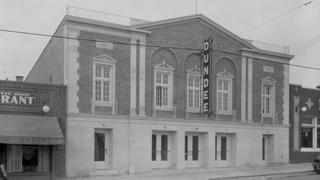 About the Dundee Theater
The Dundee Theater first opened in December 1925, within what was then the suburban Omaha community of Dundee. Four years later, sound technology arrived, marking the first of many changes to the cinema through the years.
At times, the Dundee served as a venue for popular Hollywood fare, including its historic 118-week run of The Sound of Music in the mid-1960s. At others, it operated as an art house, introducing new independents and international films to local audiences.
In 2017, following a transformational gift of property from The Sherwood Foundation that saved the then-shuttered Dundee Theater, Film Streams took ownership of the historic cinema and began a major renovation to secure its future.
Improvements and additions include a new, safer entrance on the north side of the building, a larger lobby/community space shared with Lola's Cafe, and a brand new screening room, the 25-seat Linder Microcinema, that will feature more experimental and challenging art films while also serving as the home for Film Streams Courses.