Health & Safety Guidelines
Film Streams has implemented enhanced protocols and procedures in order to provide a safe and healthy environment for all patrons, staff, and volunteers. We are proud to say the precautions in place at our cinemas meet or exceed the voluntary CinemaSafe guidelines established by the National Association of Theatre Owners (NATO).
Please review these guidelines in advance of your visit, and do not hesitate to let us know if you have any questions.
What to Expect at our Cinemas
Lowered Capacities & Social Distancing: Our theater capacities are lowered to allow for distancing between seated groups. ​We ask that patrons choose seats that will maintain a safe and respectful distance from others.
Masks: At this time, we ask all patrons, including those fully vaccinated, to wear a mask unless seated and eating or drinking concessions.
Staff Health & Safety Precautions: All Film Streams staff conduct health self-assessments before reporting to work, including temperature checks. Our staff wear masks while working and gloves when necessary. These precautions apply to all staff members at this time, including those who are fully vaccinated.
Scheduling & Cleaning: Our showtimes schedule will allow for even more time between shows for cleaning of our theaters, rest rooms, and common areas.
Online Ticketing: All patrons are strongly encouraged to purchase tickets online in advance. There are no additional fees to online purchases.

Facility Improvements: We have made a number of building improvements and adaptations, including substantial HVAC upgrades. Please see below for additional details.
Vaccination Only Screenings: Every Saturday evening, we will offer showtimes where proof of vaccination (or negative COVID-19 test within 48 hours) will be required.
What You Can Do
Get Vaccinated! Building a community-wide defense against COVID-19 is a team effort. Help by encouraging your family and friends to get vaccinated, too. Find vaccines.
Practice Healthy Habits: Wear a mask, wash your hands regularly, and stay home if you are not feeling well. We will happily refund or exchange your ticket(s) for another date.
Buy Tickets Online: Buying online helps us reduce box-office transactions and anticipate crowd size and seating availability.
Pay for Concessions by Card: Help us limit cash exchanges by purchasing your concessions with a credit, debit, or Film Streams gift card.

Be Kind: We ask all patrons to practice patience and empathy with each other and our staff as we make the transition back to daily operations. Thank you!
Building Improvements & Adaptations
Over the past several months we have made a number of building improvements and adaptations at both the Dundee Theater and Ruth Sokolof Theater, including:
Installed MERV-13 air filters and in-duct air purification technology at both cinemas
Installed an entirely new HVAC system at the Ruth Sokolof Theater
Increased fresh-air intake/outdoor ventilation at both cinemas
Installed plexiglass dividers at all points of sale
Acquired electrostatic sprayers for use as part of our regular cleaning procedures
Installed touchless faucets at Ruth Sokolof (already in place at Dundee)
Added interior signage to promote distancing and health guidelines
Reduced physical transactions at points of sale with touchless payment technology
Questions?
Please let us know. As always, we want your experience at our cinemas to be positive and appreciate your consideration of all steps we are taking to reopen as safely and responsibly as possible.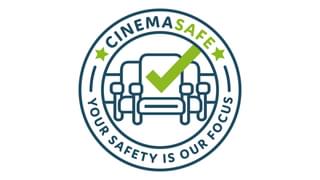 Film Streams is proud to meet or exceed the voluntary CinemaSafe guidelines established by the National Association of Theatre Owners (NATO).