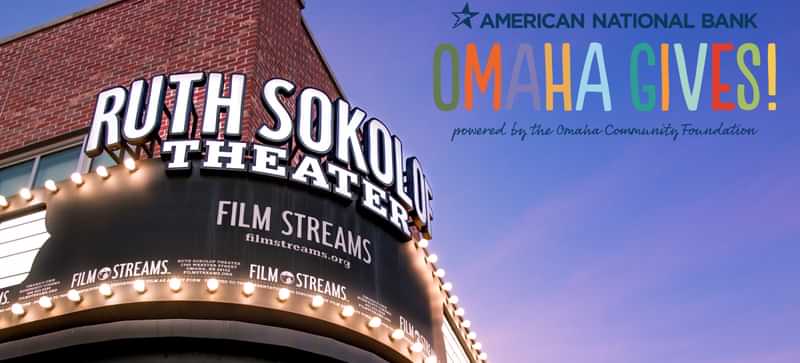 Thank you for a record-breaking Omaha Gives!
Omaha, you showed up in such a big way for Omaha Gives 2020. Overall, more folks than ever before gave, collectively supporting more nonprofits with more unique gifts. As for us, you pushed us past our donation goal and smashed our previous record for most individual donors. We can't express our gratitude enough.
Thank you for coming together in a time of crisis to let good grow.
| | |
| --- | --- |
| Maria Akers | |
| Jimmy Albin | |
| Katie Alford | |
| Sarahjoy Allen | |
| Paige Amick | |
| Cindy Andersen | |
| Richard L. & Ann Anderson | |
| Mary Anna & Clyde Anderson | |
| Polly Andres | |
| Alyssa Anglin | |
| Deborah Appleby | In Honor of Film Streams Employees |
| Bonnie & John Austin | |
| Katina Axiotes Rogers & Joe Rogers | |
| Kali Baker | |
| Claire Baker | |
| Natalie Bartman | |
| Allee Barton | |
| Jeff & Lindsay Beck | |
| Tom Becka | |
| Heather Belt | |
| Sam Bertino | |
| Katie Blesener & John Royster | |
| Adrienne Bohnenkamp | |
| Amy Bones | |
| Catherine Bosley | |
| Lyn & Stephen Bouma | |
| Luci Bowyer | |
| Eric Bunderson | |
| Karen & Brent Burmood | |
| Diana Byrd | |
| Katie Cameron | |
| Randall Cameron | |
| Bruce Cardwell | |
| Sean Carlson | |
| Joan Carnaby | |
| Yizhong Chen | |
| Tina & John Cherica | |
| Debra & Christian Christensen | |
| Kristy & Jeff Clarke | |
| Scott & Julie Cobb | In Honor of Rachel Jacobson |
| Mike & Mary Combs | |
| Paula Cope | |
| Damien Coran | |
| Josie Metal-Corbin & David Corbin | |
| Brent Crampton | |
| Tanya Crino & Dewey Spitler | |
| Jeff Day | |
| Bethany DeCarolis | |
| Marcel Devetten | |
| Julie DeWitt | |
| Jeff & Sarah Dickinson | |
| Julie & Jesi Dierberger | |
| Thomas Dorwart | |
| Marguerite Dunn | |
| Jody & Roger duRand | |
| Taylor Eagan & Nick Birkel | |
| Neal & Judith Earley | |
| Gary Emenitove & Michael Jones | |
| Molly Feichtinger | |
| Justin Fennert | |
| Terrence & Catherine Ferguson | |
| Sarah Ferneding | |
| Bryan Findell | |
| Abby Fogle & John Erickson | |
| Erin Foley | In Memory of Susan Eustice |
| Betty Foster | |
| Terry & Mollie Foster | |
| Michelle Friend | |
| Sandra Garcia & Jose Parra | |
| Linda & David Gardels | |
| Bill L. Gaus | In Honor of Cheryl Arends |
| Joyce Geary | |
| Sarah & Dan Gilbert | |
| Rose Glock | In Memory of Doug Marr |
| Brenton Gomez | |
| Kimberly Grassmeyer | |
| Sonya & Christian Gray | |
| Megan Green | |
| Mike & Diane Greene-Walsh | |
| Bobbie Greenspan | |
| Bill Grennan | |
| Jaim Hackbart | |
| Cynthia Hadsell | |
| Matthew Hansen & Sarah Baker Hansen | |
| Jack Hardwick | |
| Mary Helms & Ken Olson | |
| Christine Henningsen | |
| Keith & Rose Hentzen | |
| Kimberly & Timothy Henze | |
| Holly Herman & Jim Nolan | |
| Bryan & Pamela Hill | |
| Michael Hollins | |
| Bonnie K. Horwich | |
| Tonya & Joel House | |
| Kristine Hull & Eric Williams | |
| Rachel Jacobson & Stephen Osberg | |
| Sara Jacobson | In Memory of David Jacobson |
| Nancy Jacobson | In Memory of David Jacobson |
| Nisha & Maher Jafari | |
| Jeff Jeppson | |
| Alex Jochim | |
| Nancy Johnson | |
| Mitch Jordan | |
| Scott & Abby Jordan | |
| Simon Joyner & Sara Adkisson-Joyner | |
| Gary Kalis | |
| Nanci Kavich | |
| Katie & Justin Kemerling | |
| Tammie Kennedy | |
| Jimmy Khandalavala | |
| Shari Kimble & Charles Dryer | |
| Megan King & Dan Walker | |
| Marianne Kinney | |
| Mogens Knudsen | |
| Anne & Jerry Kotlik | |
| John & Wende Kotouc | |
| Suzy Kratochvil & Ed Lindsay | |
| Leslie Kuhnel & James Somers | |
| Bridget Lachowsky | |
| Mary Ann Lamanna | |
| Andrea Lang & John Hazuka | |
| Andrew Lang | |
| Josephine Langbehn | |
| Josie Laurent | |
| Caitlin LaVelle-Gustafson & Andrew Gustafson | In Memory of Thomas Campion Miller |
| Susan & Mike Lebens | |
| Aaron Lee | |
| Christina Legner | |
| Elaine Litton | |
| Toni Choquette & Casey Logan | |
| Quentin Lueninghoener | |
| Jay Lund | |
| Meredith Fuller & James Luyten | |
| Travis Mannschreck | |
| Patti Martin | |
| Diana Martinez | |
| Brooke Masek | In Memory of Gary Masek |
| Matt & Sarah Mason | In Honor of Sophia Mason |
| Amy Mather / Omaha Public Library | |
| Janna Mattingly | |
| John & Anna May | |
| Anonymous | |
| Betsy McDaniel | |
| John McDevitt | |
| Rick Mcfayden | |
| Tim McMahan & Teresa Gleason | |
| Tim & Loretta McNally | |
| Craig & Heather Meier | |
| Tracey Menten | |
| Anne Meysenburg & David Shreffler | In Honor of Desmond & Eleanor Shreffler |
| Deb Mindrup | |
| Jessica Marie | |
| Jeanne Schuler & John Murray | |
| Kit & Charlie Murrin | |
| Courtney Mustoe | |
| Vicky Nakibuuka-Muli | In Honor of Judy Kiagiri |
| Hillary Nather-Detisch & John Detisch | |
| Eric Newhouse | |
| Gail & Nancy Nielsen | |
| Marta Nieves | In Honor of Brian Allen |
| Andrew & Angie Norman | |
| Ellie Novak | |
| Molly O'Brien | |
| Michael & Peg Odorisio | |
| Linda Diane Olson | |
| Kerstin Olson | |
| CJ Olson & Susan Sanchez | |
| Caitlin Osborn | |
| Erica Parish | |
| Lisa Parmley | |
| Roz Parr | |
| Robert M. Patterson | |
| Cory Peters | |
| Madeline Peters | In Honor of Omaha Creative Directory |
| Nancy & David Peters | In Memory of Michael Peters |
| Janice Pickering | |
| Denise & Hobson Powell | |
| Rachel Ray | |
| Carol RedWing | In Memory of Wanda Redwing |
| Carl Reikofski | |
| Paige Reitz | |
| Amy Richardson | |
| Rebecca Riley & Matt Gentleman | |
| Bill & Kim Roberts | |
| Katherine Roberts | |
| Jay & Suzanne Robinson | |
| Rick & Laura Roccaforte | |
| Thalia Rodgers | |
| Molly Romero | In Honor of Rachel Jacobson |
| Kevin Rooney | |
| Nancy & Jack Round | |
| Courtney Ruwe | |
| Dana Ryan Mike | |
| Maria & Jeff Sauvageau | In Memory of Thomas Campion Miller |
| Susan A. Scherl | |
| Amy Schindler | |
| Susan Schonlau | |
| Elizebeth & Ray Schueneman | In Honor of Diana Martinez |
| Mark Howard Schulze | |
| Mike Scofield | |
| Marlene Sedlacek | |
| Jeff Seiken | |
| Samantha Senda-Cook | |
| Stephanie Shattuck | |
| Linda & Mark Sidwell | |
| Betiana & Todd Simon | |
| Danielle Simpson | |
| Donald & Elizabeth Slaughter | |
| Margaret Smith | |
| Kathleen Smith | |
| Ann Smolsky & William Rotert | |
| Leigh & Dave Snow | |
| Patricia & Gregory Solko | |
| Kim Sosin | |
| Matt Stambaugh | |
| Eileen Stark | |
| John & Katey Stemple | |
| Katrina & Matthew Stoffel | |
| Stacy Stohlmann | |
| Mary Ann Strasheim | |
| Chris & Barbara Stratman | |
| Susan & Mary Stroesser | |
| Chris Stungis | |
| Emma Sundberg | |
| Katie Swanson | |
| Miriam Sward | |
| Nic Swiercek & Kaeli Samson | In Honor of Rachel Jacobson |
| Ryan Syrek | |
| Janet & Jerry Syslo | |
| Melissa Wurth & Jeff Tafolla | |
| Mary Talbot | |
| Lori Tatreau | |
| Julie Thornton | |
| Sherry Thrasher | |
| Michelle Tibbels | |
| Judy Torrens | |
| Amy & Tom Trenolone | |
| Nichole and Kevin Turgeon | |
| Nichole & Kevin Turgeon | In Honor of Melisa Clark |
| Ginny Tworek | |
| Jadon & Hallie Ulrich | |
| Megan Van Alstine & Ian Sanders | |
| Joe Vanourney | |
| Danny Ventura | |
| Kurt Vickerman | |
| Sam Walker | |
| Matt Walker | |
| Cammy Watkins | In Honor of Angie Balsarini |
| Diane Watson | |
| Nizar & Michele Wehbi | |
| Katie Weitz, PhD & Tim Wilson | |
| Madeline & Arthur West | |
| Aelwen Wetherby | |
| Ted, Nicole, Madeleine & Clara Wheeler | |
| Todd White & Sheri Kennedy | |
| Roberta Wilhelm & Vic Gutman | |
| Katie Wilkins | |
| Slappy Chalmers | |
| Kate Williams | |
| Jane Wilson | |
| Mary Beth & Jim Winner | |
| Jayne Wisnieski | |
| Karen Wittler | |
| Carol Wood | |
| Maggie Wood | In Honor of all the good times! |
| Justin Young | |
| Fred & Judy Youngscap | |
| Joseph Zaborowski | |
| Michael Zack | |
| Jenny Zimmer & Dan Brennan | |