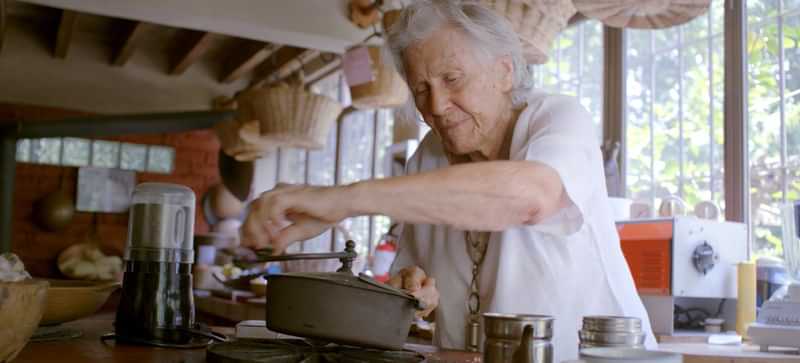 Movie in a Bite: Refritos and DIANA KENNEDY: NOTHING FANCY
DIANA KENNEDY: NOTHING FANCY is a new documentary, available in virtual release starting Fri May 22, about a maverick food writer often credited with broadening the international profile of Mexican food. Since we know this film will help you work up an appetite, we thought it would be fun to reach out to our own resident expert on Mexican cuisine, Lola's chef/co-owner Corina Figueroa, to cook up a recipe that would pair well with the movie.
When we reached out to Corina, her first thought was to share a recipe for a staple of Mexican cuisine: refritos, or refried beans. "Then I watched the movie and that's how the movie starts," Corina writes, "with her making refried beans! So I feel like Diana reaffirmed what I was thinking."

So please enjoy Corina's recipe, which she calls "nothing fancy, but the base for a lot of our favorite meals and snacks."
Frijoles refritos (refried beans)
Makes 1 qt
The best flavor comes from dried beans, so if you have access to dried beans, please use them. Cooking beans takes time but most of it it's time off, and there is something deeply satisfying about having a bubbly pot of beans cooking on the stove. Two cups dried black beans will make about four cups cooked beans.
4 cups cooked black beans with a little bit of their broth.
1 onion finely chopped.
1 dried chile de árbol (optional)
3 Tbsp of lard or neutral tasting vegetable oil
Salt to taste
In a heavy bottom skillet heat the lard or oil of choice over high medium heat. Add onion and chile de árbol, if using, and cook until the onion is translucent. Don't let the onion brown. Turn the fire slightly up and add the beans with a little bit of their broth. It will be an aggressive reaction, you will hear "ghhssshhhhhhhhhhh." Cook, smashing the beans down – a masher for mash potatoes works well. This cooking stage takes about 10-15 mins. You want everything well melded. Remove the chile de árbol. Season to taste. Stored in an airtight container they will keep in the fridge for about a week.
They are great solo, a great breakfast alongside your eggs and flour or corn tortillas or smeared in a tostada, topped with crème fraiche and salsa verde. Or alongside rice! So many great options.