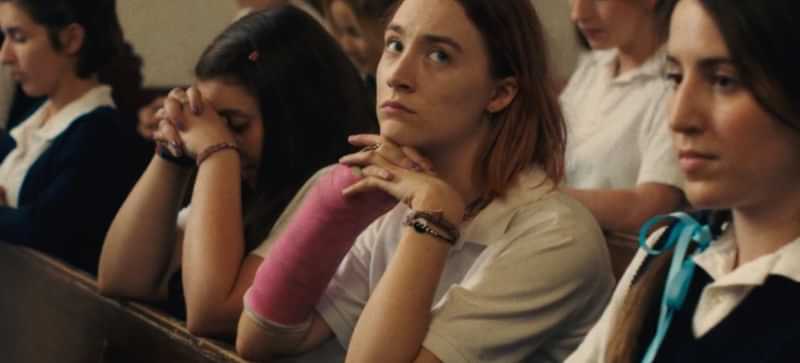 I first saw LADY BIRD, Greta Gerwig's directorial debut, in September at the Toronto Film Festival. I was excited for the film, if not nervous. I am an unabashed fan of Greta Gerwig, but the glowing reports from its premiere at the Telluride Film Festival made me skeptical. How great could this movie be? But when the film began — pardon the flying reference — my heart soared.
The story is more nuanced than its simple premise suggests: Christine "Lady Bird" Mcpherson, played by the sharp Soairse Ronan, is a 17-year-old growing up in suburban Sacramento, a situation that she, of course, hates. We follow her as she plays pranks on the nuns at her Catholic high school, she joins the school play, she says "I love you" to a boy for the first time, and she learns to see her mother as a person, rather than an obstacle to her happiness. Gerwig crafts complex characters that are particular, yet recognizable. The musical choices are cheekily spot-on, and the actors shine.
At the Toronto screening, I sat next to a woman that was, like me, invariably between laughing, and cringing, and sobbing, and the sniffles and gasps in the audience suggested we were not the only ones. When the film ended and the lights went up, I caught her eye and we laughed as we both wiped our noses on our sleeves. I said, "Thanks for enjoying the movie with me." She grabbed my arm and earnestly said, "That movie was everything."
It's hard to explain why or how a movie comes to be called "perfect" — as this film has been by the most esteemed film critics — but for me, that label is less about how technically proficient a director is or how virtuosic the film may appear. If movie-going remains one of the few collective experiences we can have, a "perfect" film should make that palpable. It should touch you individually, yet make that little theater full of feeling. It may be a lot to ask of a film, but LADY BIRD had that spark of magic that day. I can only hope that you, and the person next to you, and everyone in the theater can feel that today too.