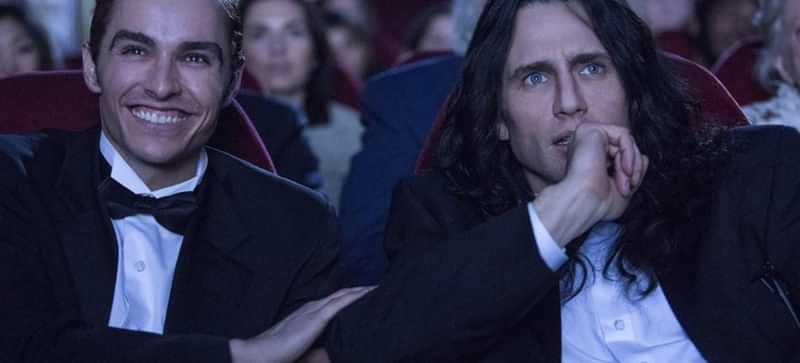 THE ROOM is the best worst movie ever made. A cult classic since its premiere in 2003, the film features the enigmatic Tommy Wiseau (also the film's director) in a role that is as thinly constructed as it is whole-heartedly acted. For James Franco, who plays Wiseau in THE DISASTER ARTIST and directs, THE ROOM is a symbol of earnest ambition and the love of filmmaking.
Franco recently spoke to VOX about discovering the film and relating deeply to Wiseau, "I actually wasn't a part of the whole Room phenomenon in its early days. I came to this whole thing through Greg Sestero's book The Disaster Artist. I had seen the billboard of THE ROOM in LA that was on Highland Avenue from, like, 2003 to 2008. It was so bizarre. It had a phone number and Tommy's face glaring down at you, but I didn't know what it was. It could have been a movie, but what movie billboard has a phone number, you know? It just sort of sat on the edge of my consciousness.
[...] Then I went to my first theatrical screening of THE ROOM in Vancouver not long after. It was incredible. I've been to many theatrical screenings of THE ROOM since then, and I still remember Vancouver being the best of them all. They had more plastic spoons than anyone, they had the best response lines, they had people in tuxedos, they had footballs...
Greg Sestero was at that screening, because his book had just come out, so he was promoting the book. He knew I was going to be there. After that, I was completely sold. I told him, I'm in, that was the best moviegoing experience I've had in my life, and the story behind it is so moving. This is the story that I guess I was born to tell.
[...] What I hoped I could do is tell a story about creativity, tell a story about having a vision that nobody else believed in and pushing that vision out into the world, but through the upside-down skewed lens of this very strange and unique film, THE ROOM."