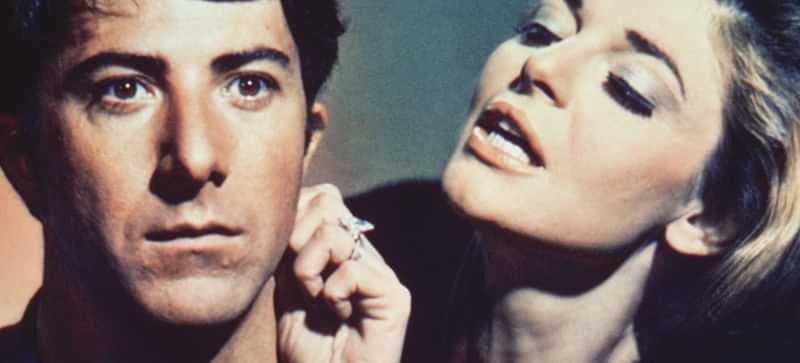 THE GRADUATE has, for years now, been considered a cinematic classic. Its one-liners permeate popular culture, its soundtrack is one of a few to have its own accolades and afterlife, and its aesthetic ushered in a new era of filmmaking.
Though THE GRADUATE was billed as a dark comedy when it first premiered in 1967, in our current moment it takes on a more tragic undertone. In an interview with Time Out New York director Mike Nichols muses about why the film is considered one of the greatest films of all time, "I have a shocking answer: It's because the story is an unintentional retelling of the Hippolytus and Phaedra myth. The whole younger man–older woman thing — that's where it comes from. It took me decades to realize this, but it's true.
The [Greek myth] shows up in everything from Stendhal's THE RED AND THE BLACK to O'Neill's DESIRE UNDER THE ELMS to this; and then it gets filed away in our collective brains, because the corrupting aspects make that myth dangerous. Yet there's something so primal and compelling about it that keeps it coming back. There are a number of basic stories like that, but that younger man–older woman one always seems to get to people. You want to make money, remake Cinderella. You want to move people, remake the Hippolytus and Phaedra myth."
In the myth, Phaedra is cursed by Aphrodite to fall in love with Hippolytus, a younger man and her stepson. When he rebuffs her, she takes revenge (different translations offering varying ways she takes revenge) and her own life.
It is not difficult to see THE GRADUATE as its own kind of tragedy, with all its main characters as beholden to social constructs as the mythic heroes were to the whims of vengeful gods. As Ellen Jones writes in The Guardian, "Maybe how you feel about The Graduate reflects the stage you have reached in your own life when you watch it. For older viewers, it's a reminder that you, too, were young once. For the young, it's a reminder that you too will grow old soon enough."