Courses
Themed seminars provide adult audiences with an introduction to the tools of film analysis. From Film Streams Education Manager Paul Sanchez.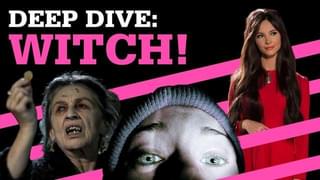 Course: Witch!
Saturdays, October 14, 21, & 28 | 10AM to 1PM | The Ruth Sokolof Theater
The character of the female witch predates cinema; however, films like SNOW WHITE AND THE SEVEN DWARFS (1937) and THE WIZARD OF OZ (1939) have helped to construct this character into an often wicked and antagonistic figure in horror.
This Deep Dive is designed to survey three specific horror subgenres while using the cinematic female witch as a figure for examination. Each week this class will watch a horror film featuring a female witch and follow the screening with a critical discussion. This Deep Dive will be led by Film Streams' Education Manager, Paul Sanchez.
Join us this October for a wicked time!
To Register

Please purchase a single ticket for all three weeks!
Link:
https://bit.ly/3Z5nCGJ

FILMS:
DRAG ME TO HELL (2009) dir. Sam Raimi
THE BLAIR WITCH PROJECT (1999) dir. Eduardo Sánchez & Daniel Myrick
THE LOVE WITCH (2016) dir. Anna Biller
COST:
$75 General
$45 Film Streams Members
$60 Student/Teacher/Senior/Military & First Responders
About Courses
Each Courses installment takes place over five weekly sessions, with each session focused on a particular film on the syllabus.
Registration Fees*
$125 General
$75 Film Streams Members
$100 Student/Teacher/Senior/Military & First Responders
*Includes Course materials and snacks
About Courses: Deep Dive
Deep Dive will distill the five-week Courses experience into one intensive class session, with a particular focus on stylistically innovative work, thematically "difficult" films, or challenging aesthetic concepts.
Registration Fees*
$30 General
$20 Film Streams Members
$25 Student/Teacher/Senior/Military & First Responders
*Includes snacks
Refund Policy
Registration fees for Courses may be refunded until two weeks prior to the first class. After that period, no refunds or exchanges will be accepted. The registration fee may not be transferred to another Course, nor is it applicable toward regularly priced programming. Refunds will not be given for a partially attended Course. In the event that Film Streams needs to cancel a Course, we will refund the registration fee.