Courses
Themed seminars provide adult audiences with an introduction to the tools of film analysis. From Film Streams Education Manager Paul Sanchez.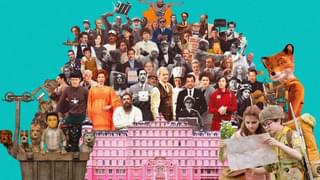 Course: Becoming Anderson
Saturdays, MAY 6 through JUN 3, 10am to 1pm Ruth Sokolof
Welcome to the world of Wes Anderson!
Admired as a modern auteur, Wes Anderson's signature style is something to be seen… and discussed. What exactly is Wes Anderson's filmmaking style? Is Wes Anderson truly a twee anomaly or does he owe a lot of his signature cinematic charm to great filmmakers that came before him? What, if anything, does Wes Anderson do poorly?
Join Education Manager, Paul Sanchez in a five-week course that is designed to lead students through Wes Anderson's career and selected cinematic inspirations. Each week in class students will watch a film from the syllabus and engage in a facilitated discussion. Complementary snacks provided.
The Films:
BOTTLE ROCKET (1996)
MOONRISE KINGDOM (2012)
THE DARJEELING LIMITED (2007)
A WOMAN IS A WOMAN (1961)
WHO'S AFRAID OF VIRGINIA WOOLF? (1966)
COST $125 General
$75 Film Streams Members
$100 Student/Teacher/Senior/Military & First Responders
Register Now
About Courses
Each Courses installment takes place over five weekly sessions, with each session focused on a particular film on the syllabus.
Registration Fees*
$125 General
$75 Film Streams Members
$100 Student/Teacher/Senior/Military & First Responders
*Includes Course materials and snacks
About Courses: Deep Dive
Deep Dive will distill the five-week Courses experience into one intensive class session, with a particular focus on stylistically innovative work, thematically "difficult" films, or challenging aesthetic concepts.
Registration Fees*
$30 General
$20 Film Streams Members
$25 Student/Teacher/Senior/Military & First Responders
*Includes snacks
Refund Policy
Registration fees for Courses may be refunded until two weeks prior to the first class. After that period, no refunds or exchanges will be accepted. The registration fee may not be transferred to another Course, nor is it applicable toward regularly priced programming. Refunds will not be given for a partially attended Course. In the event that Film Streams needs to cancel a Course, we will refund the registration fee.