Courses
Courses
Themed seminars providing adult audiences with an introduction to the tools of film analysis. From Film Streams Artistic Director Diana Martinez, PhD, and Education Coordinator Paul Sanchez.
Current Courses offering: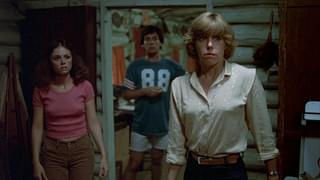 Camp Scare
Date: Saturdays, May 21 – Jun 18, 10 am to 1 pm | Dundee Micro
Camp Scare will survey slasher films set in the idyllic summer destination, summer camp. It's gonna be a killer time.
Register Now
About Courses
Each Courses installment takes place over five weekly sessions, with each session focused on a particular film on the syllabus. Courses take place in the Dundee Theater's Linder Microcinema.
Registration Fees*
$125 General
$75 Film Streams Members
$100 Student/Teacher/Senior/Military & First Responders
*Includes Course materials and snacks
About Courses: Deep Dive
Deep Dive will distill the five-week Courses experience into one intensive class session, with a particular focus on stylistically innovative work, thematically "difficult" films, or challenging aesthetic concepts.
Registration Fees*
$30 General
$20 Film Streams Members
$25 Student/Teacher/Senior/Military & First Responders
*Includes snacks
Refund Policy
Registration fees for Courses may be refunded until two weeks prior to the first class. After that period, no refunds or exchanges will be accepted. The registration fee may not be transferred to another Course, nor is it applicable toward regularly priced programming. Refunds will not be given for a partially attended Course. In the event that Film Streams needs to cancel a Course, we will refund the registration fee.