Laura Dern in conversation with Alexander Payne
Sunday, July 13, 2008
The Holland Performing Arts Center
Feature, a gala fundraising event centered on conversation about film, was conceived in 2008, when Board Member Alexander Payne invited actress Laura Dern (WILD AT HEART, JURASSIC PARK) to Omaha. On July 13, 2008, event chairs Betiana and Todd Simon welcomed nearly 1,000 attendees at the Holland Performing Arts Center for a dinner followed by an onstage conversation between Dern and Payne. Payne directed the Academy Award-nominated actress in his breakthrough effort CITIZEN RUTH, which was filmed in Omaha. Nearly 1,000 attended.
Honorary Chairs
Betiana and Todd Simon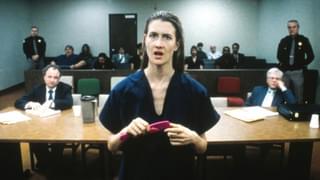 Citizen Ruth
Spot-on satire about an irresponsible drug-abuser whose very public pregnancy becomes the battleground for the debate about abortion.
View in the Vault